The Adaptation of African Agriculture Initiative (AAA) was launched by the government of Morocco at the United Nations Framework Convention on Climate Change (UNFCCC) 22nd Conference of Parties (CoP22) in Marakesh. One of the first actions of the initiative has been to develop Climate-Smart Agriculture Investment Plans for countries in West and Central Africa. The ERA database has been used to support yield and financial analysis of technologies and ex- ante assessment of the investment plans in four countries. These investment plans align with national policies and strategies and lay the groundwork for stakeholder-driven investments in agriculture under climate change.
Figure below: Probability density functions showing the potential economic performance measured as net present value (NPV) for seven projects given climate and social risks to project implementation. ERA provided input data on the financial benefits of management practices and technologies underlying this economic analysis. Partners: governments of Mali, Cote d'Ivoire, Burkina Faso, Ghana and Cameroon; World Bank.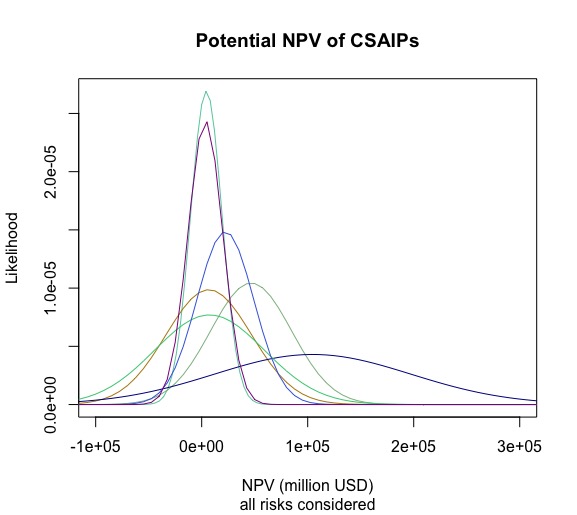 In addition to work with the AAA Initiative, ERA is being used to support the development of Green Climate Fund proposals by providing financial analysis of technologies and the performance of technologies under different environmental conditions.